F1 Race Stars speed on through in new gameplay trailer
Words by: Phil Kowalski | Posted: 6 months ago | Filed under: News, Videos.
Codemasters are at that racing thing again. The team that bought you such classic racing games such as Colin Mcrae Rally and the TOCA series, are wrapping up the last few bits on their latest racer, F1 Race Stars.
This Mario-esque cutesy racer has just had a new gameplay trailer released, featuring some fast-paced, smooth and fun action.
The game itself will feature bobble-head style racers, modelled on the F1 stars themselves, with accurate and licensed cars, in miniature. It will also hammer the pedal down on the fun level by allowing up to four-player splitscreen racing, an extensive three-tier career mode, which will include both the traditional Grand Prix and a range of objective game modes such as against the clock, checkpoint challenges and more. As if that wasn't enough, there will also be Time Trial and Free Play modes too.
Around each circuit there will be some F1 themed power-ups to collect such as DRS, to give you that extra boost and a pesky Wet Weather rain-cloud to slow your opponents down. Taken some damage? Simply race down the pit lane and pile on the speed again.
As the video below shows, this looks great fun and is something to finally give up playing Mario Kart for.
F1 Race Stars is released on the 16th of November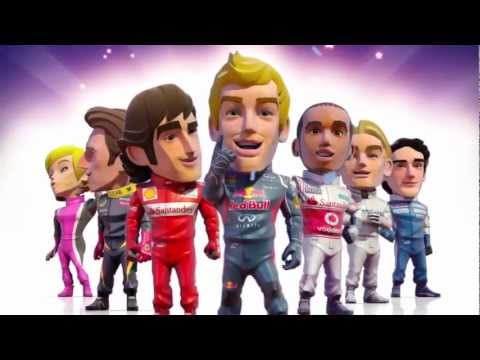 A midlander, exiled to the South Coast. I once finished Gremlin's "Lotus Esprit Turbo Challenge" & I have the certificate to prove it.