Budding kiddie developers' first title released on XBLIG
Words by: Jeff Barker | Posted: 7 months ago | Filed under: Indie Spotlight, News, Videos.
The Xbox Live Indie Games section gives budding and up and coming developers the chance to get their material into gamer's hands and – potentially – into the eyes of the publishing big boys.
All are welcome, and the section is proving to be a hotbed of new talent and exciting titles that are seriously under-represented - take a look at our Summer Uprising Preview for proof positive – and the fact that most titles cost a measly 80MSP should warrant a minor rummage by anyone's standards.
It's excellent news then, that Annabelle (aged 6) and Harry (aged 4) have taken the bull by the horns and released their first title (Cars Shooting At ALIENS) with the help of Zebra Games.
All of the game Art, Design and Voiceover duties are accredited to the diminutive duo, and if the video below is anything to go by then they've done a rather stellar job – delivering a side scrolling shoot 'em up that for some reason reminds me of Roobarb and Custard.
Cars Shooting At ALIENS is available on the Xbox Live Marketplace right now for 80MSP .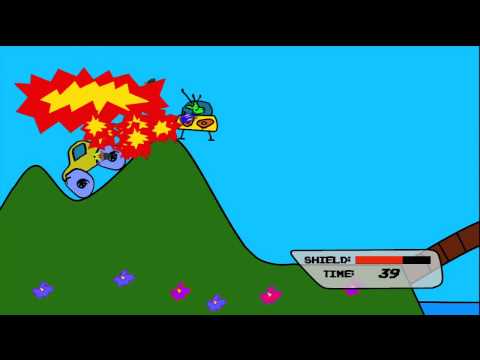 Jeff has been with the Xboxer360 team since April 2009. He is well known for his love of sandals and frequently exhibits Rainman-like behaviour, which is even more amazing now he's a Dad. He prefers third person action/adventure titles and RPG's, but will happily turn his hand to pretty much anything.