Review: Sleeping Dogs
Words by: Richard Berry | Posted: 9 months ago | Filed under: Game Reviews, News, Retail Games.
Rising from the ashes of True Crime: Hong Kong, Square Enix and United front games bought the rights to the canned game but not the name, which I'm glad of, not only does Sleeping Dogs sound more interesting, it wipes away any previous associations with the True Crime franchise that people may have had. The game itself is quite simply a GTA clone – the similarities and influences will jump right off the screen but whereas other sandbox games are only too happy to lurk in GTA's shadow, Sleeping Dogs makes a great attempt at carving out some individuality.
The game unfolds with a dodgy deal gone wrong which swiftly sees you the wrong side of the law and locked up in prison where you just so happen to bump into an old friend, Jackie Ma. It turns out the guy you play as (Wei Shen) is actually an undercover cop and this whole affair is nothing more than a charade to gain entry into Hong Kong's Triads via your friend Jackie with the sole goal of taking them down from the inside. Sounds simply enough right? Well just to add a little oriental spice into the mix it just so happens that Wei holds the Triads responsible for what happened to his family. They're dead and as the game unfolds you find out the manner in which they're untimely doom occurred.
The games' storyline spreads out over the entirety of Hong Kong, which has been modeled on the modern-day city. Racking in at around 20-25 hours you will embark on all manner of missions that would feel right at home in any of the GTA games. United Front Games do however make their own mark to the gameplay and Rockstar should certainly pay attention to the driving and melee combat of Sleeping Dogs.
The biggest element that is brought to the table of the sandbox genre is an XP system. Not content with just one, United Front Games have three, which work in tandem with one another. Cop, Triad and Face are the three XP systems that will give you access to better abilities and resistances to damage. Cop and Triad XP are awarded at the end of each of the main storyline missions (you also get Cop XP for doing undercover work) and Face XP is awarded for helping out the citizens of Hong Kong. The amount of Cop and Triad XP you are awarded is dependant on how you play the game. Being extra brutal to your foes and mixing up melee combat combo's increases your Triad XP. Cop XP on the other hand starts with the maximum award value and decreases over the course of the mission should you choose a less responsible approach like running over civilians or destroying public property. If you have any Cop XP remaining at the end of the mission it will go into your characters progression into the Cop skill tree.
As you'd expect each XP trait has its own set of skills to unlock. Cop skills will unlock gun and driving abilities, whilst the Triad skill tree unlocks abilities to buff your melee combat. The trees have two branches which you may choose to progress down and it's only the Face tree that you have no choice over, unlocking passive skills which help you resist attacks better. There is a fourth skill tree which gives you access to new combat techniques and combos, these are learned in the Kung Fu school and are unlocked by returning some Jade statues that were stolen. The statues are usually located within main storyline missions but there are a few located elsewhere in the game world. They are easy to spot and like the other collectibles in the game they give off a pulsing light and are also marked on your in game mini map as you drive past – so keep an eye out.
The initial sequences of the game introduce you to the games' parkour moves and the superb melee combat system. You start with a standard set of combos, which are upgraded as you progress through the game, these are mixed in with environment hotspots where goons will end up the wrong side of a table or crushed in half by a security shutter. It's very similar to the interrogation sequences of Splinter Cell Conviction, just less slick and heavier on the button mashing.
As well as pressing and holding the X button to unleash a flurry of different combos you can also grab enemies and beat on them further or run them into the environment. You can counter enemy attacks, which are timed by watching for when enemies glow red. Most importantly, mix up your attacks to take down your of foes, some of them can be beat on however you please whilst others will resist your attempts to grapple them. It makes for some great combat, always needing you to keep a swivel on to make sure you are using the correct melee technique for the correct enemy type. Take too much damage from incoming attacks and the edges of the screen will flash red – executing successful combos will soon get you back in good health. To help you get an upper hand in combat you can buy things from various vendors and drinks machines spread across the city. These items affect your health regeneration or combat effectiveness for a set period of time.
Although there are 15 guns to find and cause mayhem with, the main focus is melee combat and consequently there are no gun shops located in Sleeping Dogs' Hong Kong, instead you are given a gun when the game decides you need one. With limited ammo guns are left lying around when you need to take on armed gangs, unfortunately police are only too happy to get involved and you can find yourself caught in the middle of a gunfight. Aiming feels a bit floaty especially if you compare it to other third person shooters, but utilise the slow motion effect that kicks in when you slide over obstacles and the gun combat becomes great fun. You can also prolong the slow motion effect by racking up kills or getting headshots – essential when you're taking on a large gang armed to the teeth.
There are plenty of vehicles located within Sleeping Dogs and although you can't stash them in your hideout, you can purchase them on the black market and they will then be available in any of the numerous parking lots in the city. The car models, although not directly named, feature all your favourite car models from Audi and Toyota to Lamborghini and Ferrari. The driving itself is spot on, there are slight differences to how each model handles but this is relatively minimal – the emphasis is more on arcade racing and once you unlock the underground street races the fun really begins.
As well as the standard controls we have all become used to when driving around large virtual cities, Sleeping Dogs has two rather nifty driving tricks up its sleeve. The first is the ability to ram other cars which is certainly handy to gain a rather underhanded edge over other race competitors but more importantly it's essential to escaping the police. To be honest the police are pretty moronic when is comes to car chases and the usual sneaky skills you may have picked up over the years will be golden, but should the police just not get off your tail – ram them, not only is it fun, it works brilliantly. The second driving trick is action hijacking, more recently found in Just Cause. Tail a vehicle that you can hijack and you can leap from your vehicle to thetarget, guns blazing in slow motion if you're packing. Another nice touch to the driving sections is the GPS which uses augmented reality arrows to show you which way to turn. It never obscures the screen and you needn't worry about keeping one eye on the mini map and one eye on the road so you don't miss your turning.
The driving sections to Sleeping Dogs is certainly one of the standout parts to the game, which is good considering you need to drive everywhere! Even the shooting whilst driving sections are well implemented, something that often feels a little wonky in sandbox games. Aim and shoot with left and right bumper to rain down bullets in an effort to kill the occupants, blow the car up or just take out the tyres. The camera swings with the action mid car chase but never feels like it's taking over and helping you aim.
Visually Sleeping Dogs looks pretty ace, faces are well rendered and the environmental effects look excellent particularly when it rains at night. Hong Kong itself is well rendered, especially the neon lighting effects. There isn't too much grit to the colour palette though almost giving the game a slightly comic feel to the graphics. In places all these neat touches are underdone by some pretty horrific screen tearing and pops in texture as they load in.
With so much to do in Sleeping Dogs you wont find yourself with nothing to do. On top of the main storyline there are plenty of jobs, side missions and activities to partake in. It's even worth just exploring the city, whether that's to track down some collectibles or to just stand around and listen to the excellent ambient sounds of the city. I often found myself eavesdropping on the conversations of NPCs that have been finely crafted and offer some great humour. Like all the voice acting in the game the crowd chatter is excellent and certainly creates a feeling of a living flowing city. During the main storyline voices flow from English to Chinese – it may sound a little weird to start with but once you attune to it you will find it just works. The Chinese parts are reserved for swear words or to emphasis a situation. I did find it slightly jarring that a lot of the English sounded far too American but overall the voice acting is exquisite. The only real damper to the game was the way I felt restricted, I can understand the clamp down on guns being widely available but having a phone which decides when you can use it defeats the whole point of a phone. You can only call people the game wants you to – if it doesn't want you to call someone quite simply they are removed from the contacts menu, kind of defeats the point of a mobile phone don't you think?
Your mobile is also a gateway to Sleeping Dogs' online leaderboard stat tracking service, simply called social hubGTA social club. More importantly your phone doubles up as a gadget, well you are an undercover cop after all. Using batmanesque techniques you can use your phone to set the frequency and sensitivity of a bug device, pick a lock/safe or track down the location of a phone signal.
Open world games will always be judged by GTA's standard (and rightly so) while Sleeping Dogs follows GTA's template pretty closely it should by no means be overlooked. It brings to the table an excellent setting, some great combat and driving sequences and a great XP system that has been pitched just right. I found it novel to be playing a good guy for a change, which when mixed with an excellent story that tests and blurs your conception of the line of Triad/Cop that Shen walks it soon makes you forget that Sleeping Dogs feels all too familiar.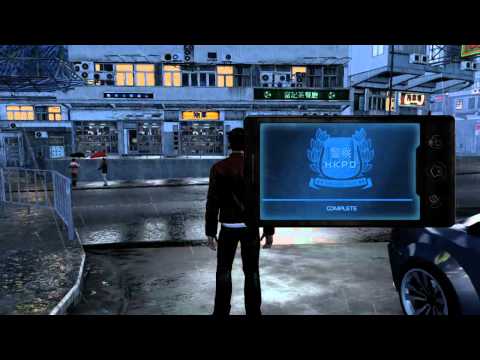 Rich co-owns Xboxer360.com alongside Dave and in his spare time he plays games such as Halo, CoD and Battlefield. His all time favourite franchise is Assassin's Creed, other than that he tends to chase Dave around with a stick to get him to do stuff.
Review: Sleeping Dogs Results
85%
What we liked:
At 20+ hours in the campaign there is plenty to get your teeth stuck into
Excellent storyline
Solid combat and driving mechanics
What we disliked:
Some annoying graphical issues
You can only do certain things when the game wants you to
Shooting can be a bit iffy