Review: Borderlands 2
Words by: Richard Berry | Posted: 8 months ago | Filed under: Features, Game Reviews, Retail Games.
You know what they say, "If it ain't broke, don't fix it"; I for one loved Borderlands. The awesome art style, zany humour, the zillions of guns and the missions. When Borderlands 2 was announced I hoped Gearbox wouldn't tinker too much underneath the hood, what they have done is tightened the game's mechanics, brought in four-player co-op and showered the game world in loot, oh so much loot. One thing is certain – if you loved Borderlands you're going to go mad for Borderlands 2.
The game is set directly after the events of the first game; the opening of the vault has triggered the growth of Eridium – an alien mineral that just so happens to be extremely valuable. It has attracted the attention of the Hyperion corporation who seek to bleed the planet dry, rumour has it there is an even greater vault hidden and Handsome Jack, the President of Hyperion, wants it all for himself but the prospect of wealth and loot has attracted even more vault hunters to Pandora.
BL2 starts with another excellent intro, reminiscent of the antics from the first game, you then choose your vault hunter. The Commando armed with a personal turret, the Siren who uses her powers to manipulate the world, the Gunzerker who wields two weapons and masters the art of rage or the Assassin, capable of deadly up close and personal attacks or long-range sniping. Each character has a far more in-depth skill tree compared to the first game. It took me far longer to progress through the skills, which makes for a more unique character built around the play style that suits you best. I did find this a tad frustrating as it did feel rather slow to progress through – at level 20 I still felt a bit powerless and the more interesting skills were still locked. Each character may also be customised in their look with several different head models and various clothing options available with more unlockable as you progress through the game.
Left for dead by Handsome Jack you are stranded on a glacier, rescued by the friendly and ever so quirky Clap Trap who sets you on your way. Immediately, returning fans will be right at home with the awesome cell shaded graphics and RPG elements that made Borderlands stand out from all the other Sci-fi shooters. The crazy weapon combinations make a valiant return with even more insane combinations and a greater number of weapon and loot drops. Each time a gun drops it does so randomly after you've killed an enemy or opened a loot chest, the guns spawn with random stats so in theory you should never see the same item twice. There is so much loot to collect that even the most savvy gamer will have a hard task in collecting everything. Initially starting with only 12 backpack slots it's a case of juggling your inventory so that you're not caught short, make sure you have a few spare slots for any rare loot that happens to appear and once you reach the town of Sanctuary visit the black market and increase your inventory slots. I missed this the first time round and spent my Eridium on increasing the amount of ammo I could carry.
The newest change to the Borderlands formula is the inclusion of Badass Rank, which may also be disabled should you so wish. By completing challenges you earn new customisation items and Badass tokens, these are invested into permanent character buffs, which are applied to all your characters including any future ones you create.
BL2 largely remains unchanged from the first game; Gearbox has improved the level design and included far more varied landscapes to explore. They have also produced a more interesting set of enemies to shoot in the face, some of which are pretty darn tricky to beat and will certainly give you a challenge. Driving returns and should you so wish you can engage in vehicular combat with bandits. I can't say I noticed a big change to the vehicles, the models available feel lacking and like the first game I don't think they are very well implemented into the game other than a means to get from A to B.
A rather handy in-game mini map is now present and marks objectives and enemy locations; the character/mission menu has also seen a revamp and looks great. You see your character in third person as they stand back and look at the augmented reality display projected from the Echo communicator into the game world. Finding missions has also been made easier, you can now order them by the click of a button, including those that are undiscovered. You can sort missions into categories by difficulty, region or display them all which places the story missions at the top.
The dialogue is excellent, both friendly and enemy characters will provide hours of entertainment with their somewhat quirky and "charming" language. BL2's story and side quests have been excellently scripted, with the side quests slightly edging out the main story in terms of quality and amusement. The main story does contain its fair share of twists and turns and whereas BL never fully griped me BL2 certainly did. The story elaborates on the deeper events of the first game surrounding the Angel and the Hyperion corporation but don't worry if your memory is vague, BL2 will get you up to speed in no time and those blanks in your memory will soon be filled and should this be your first visit to Pandora you won't feel too much at a loss of what is going on.
The prize gem in BL2's crown is the co-op. Featuring both local split screen and drop in, drop out four-player over Xbox Live, BL2 is fun on your own and an utter blast with friends or random players. Yes you will come across greedy vault hunters intent on nicking all the good loot, or players that like to charge off ahead, but this isn't a massive problem because co-op works unbelievably well and is an absolute joy to play with no lag whatsoever. Join somebody else's world and should you complete a mission you haven't come across yet you will get the option to skip it when you reach it in your own world's timeline. The enemies of Pandora do become more powerful during co-op play and it scales appropriately to the number of gamers present, more importantly the quality of the loot also scales with better and rarer items more frequent. Any credits that are collected are also awarded to the other gamers as does any XP from completing missions or kills so you needn't desperately rush to finish off a boss before a team-mate gets the final blow in.
The same awesome art style returns with some extra spit and polish to the environmental attacks. There is also a rather neat graphical explosion of blue cells when your shield depletes and shatters or as a teammate respawns. If you lose all your health, like the first game, you will enter a last stand mode only now you can move around while downed, get a kill to replenish your health and continue the fight. Fail and you spawn at the last spawn station you came across; the only side effect of death is a minor dent in your credit balance. Borderlands 2 also has a day and night cycle which when coupled with the new environments looks absolutely stunning with landscapes just begging to be explored and admired.
BL2 is not without its bugs. Random graphical glitches occur when aiming down iron sights or through scopes. Numerous enemies got stuck or floated above the landscape and aerial enemies were able to fly through buildings or the roof of a cavern as they swooped down in their attack pattern. Texture pop in was a slight annoyance and mainly occurred when entering a new area and when opening a weapon or ammo crate. Admittedly these are only minor bug gripes and they shouldn't spoil an otherwise perfect gaming experience. 2012 is going to be one tough year to decide a GOTY!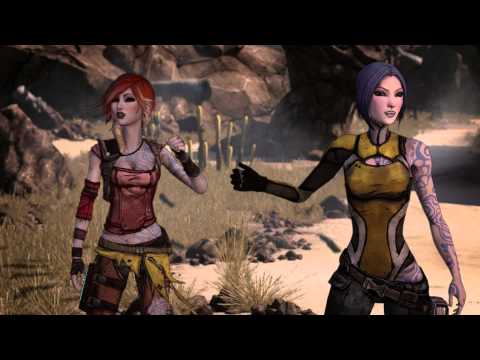 Rich co-owns Xboxer360.com alongside Dave and in his spare time he plays games such as Halo, CoD and Battlefield. His all time favourite franchise is Assassin's Creed, other than that he tends to chase Dave around with a stick to get him to do stuff.
Review: Borderlands 2 Results
95%
What we liked:
Excellent story and character narratives
An improvement to an already awesome game formula
4 player co-op
What we disliked:
Minor bugs
Slow skill tree progression and a low starting inventory limit
Vehicles are still a bit poor